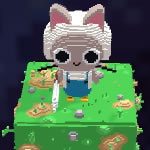 Title:
6 Sided
Category:
Action Games
Description:
Help Gnocchi the cat explore a tiny roguelike planet, fighting monsters and collecting powerups along the way. Try to advance as many worlds as possible! Feel free to leave a comment telling us how far you got!
Instructions:
Mouse:
Click on a face of the planet to jump there or to perform an action.
Click and drag the planet left and right to rotate.
Keyboard:
Rotate = Z, X or < >
Front-Left Side Action = Left arrow or Up arrow
Front-Right Side Action = Down arrow or Right arrow