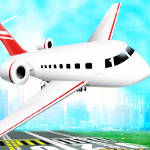 Title:
Aircraft Flying Simulator
Category:
Action Games
Description:
Aircraft Flying Simulator is fun addictive adventure game. Take off in a realistic plane in this 3D aircraft flying simulator game. Can you safely land after you enjoy a spin over the countryside.
Instructions:
Down Arrow = Take off
Up Arrow = Land
Left/Right Arrow = For directions
To control the speed click on the speed bar, drag upwards to increase the speed and drag downward to decrease the speed.