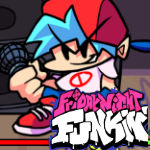 Title:
Friday Night Funkin
Category:
Action Games
Description:
Gettin freaky on a Friday night y'all. That's the slogan of this game. The game was developed by an indie game developer called ninja_muffin99 (animation by PhantomArcade, artist work by evilsk8r).
Uh oh! Your tryin to kiss your hot girlfriend, but her mean and evil dad is trying to kill you! He's an ex-rockstar, the only way to get to his heart? Show him that you got the funk.
If you like music, you will like this game. The power of music…
Desktop only!
Instructions:
You are on the right!
Press arrow when arrow over other arrow. And uhhh don't die.
If you hit and miss, some points will be deducted!
See score at the bottom!
WASD/ARROW KEYS = CONTROLS
- and + = Volume control
0 = Mute
ENTER [while playin] = Pause [Resume to game, Restart song, Exit to menu]