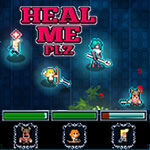 Title:
Heal Me Plz
Category:
Action Games
Description:
You are playing a healer in this adventure game. In your team are three allies: archer girl, viking and the barbarian. You fight against the dark lord and his entourage. Make sure your three allies stay alive. The health of each ally is displayed at the bottom in the middle. Heal an ally if they need it! Don't throw healing at your enemies though. The healer will get special action like lighting and spelling further in the game (see instructions)
Right Mouse Button = Click to move
Left Mouse Button = Hold to throw healing to your allies (be careful not to heal enemies)
Left Mouse Button = Click next to one of your ally to kick them
Tip: kicking allies will activate their special attacks!
Special actions [if available]:
key Q/A: teleport (use key and click with left button to teleport)
key W/Z: lighting (use key)
key E: spelling
Instructions:
Right Mouse Button = Click to move
Left Mouse Button = Hold to throw healing to your allies (be careful not to heal enemies)
Left Mouse Button = Click next to one of your ally to kick them (Tip: kicking allies will activate their special attacks!)
Special actions [if available]:
key Q/A: teleport (use key and click with left button to teleport)
key W/Z: lighting (use key)
key E: spelling