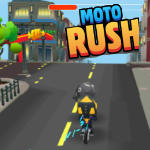 Title:
Moto Rush
Category:
Racing Games
Description:
Moto Rush is a racing game with simple gameplay and fantastic 3D graphics.
Touch and hold to ride your bike for as long as possible, increase speed and jump ramps to get a better score. Moto Rush is a free casual racing browser game made with HTML5 and is playable on desktop and mobile platforms (Windows, macOS, Linux, Android, iOS).
Instructions:
Use your mouse and slide on the screen to control the bike (on mobile: touch and slide left/right).