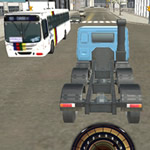 Title:
Real City Truck Simulator
Category:
Racing Games
Description:
Are you looking for real physics and truck driving game in a real city? This game is for you! Find loads at different points and take them to delivery points before time runs out. You have to be careful in fluid traffic. You can increase your entertainment with 4 different trucks and night modes. In the free ride mode you can test drive the blue truck unlimited.
Check out the different viewing angles (click on the camera icon at the top to toggle between three angles or hit the key C).
Instructions:
Truck Controls = WASD or Arrow Keys
E = Load lowering