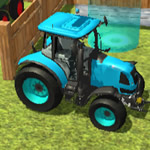 Title:
Real Tractor Farming Simulator
Category:
Racing Games
Description:
This farming simulator game offers the handling with all modern farming vehicles you can imagine. This free 3D game brings new practice for you to cultivate your fields on a modern farm. Modern Farming 3D gaming will solve your seasonal crop cutting problems. Its 3D simulation is very close to real world scenery. You'll cultivate the farm in 10 levels like you would in 10 days in real world circumstances. All modern farming techniques are available in this farming simulator.
Plain an area, plow a field, drive a harvester, use a tractor and much more in this farming sim 3d game. Hook on the tractor a seeding machine, a plaining machine and a plowing machine.
Instructions:
Arrow keys or WASD to Control vehicles
Use Left Mouse button to control the hooked element
SPACE = Swap vehicle
M = Action button