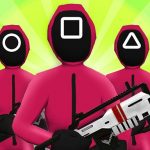 Title:
Squid Game Original
Category:
Action Games
Description:
Now you can play Squid Games Challenge online in your web browser for free at goolgames.com. Now! You can knock down your competitors! The new competition now begins! Brand-new level elements, brand-new props content, and endless levels are waiting for you to challenge.
Instructions:
– join the epic game
– be fast and sneaky
– run for your life
– red light – freeze!
– survive!
Instructions:
Use Mouse To Play and Keyboard