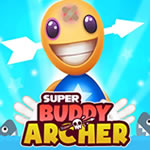 Title:
Super Buddy Archer
Category:
Action Games
Description:
Aim and shoot the arrows to hit the ropes that hold the little ones. You will have the opportunity in each level to aim and shoot a limited number of arrows. Use your chances wisely to complete each level. Complete the levels, improve your score and unlock many achievements in this spectacular game called Super Buddy Archer. Your new best friend is back! Play with Buddy and save from the rope in this cool game and escape from all the puzzle levels. Aim your bow to shoot the arrows and cut the rope to save your buddy's friend. Collect stars to unlock new exciting levels and solve all the puzzles with different object types like TNT, ricochet, boxes, sharks, and other obstacles. This time the adorable Buddys are trapped in ropes and need help to free themselves. Be careful not to hurt them too much, in some levels you must calculate the angle so that the arrows can hit the targets. Use the dynamites to explode and thus free them with the explosion. Have fun with this excellent new action game, casual to enjoy and have fun on your favorite mobile device, tablet or desktop totally free.
Instructions:
Mouse = Aim and shoot
Or use the touchscreen on mobile devices!