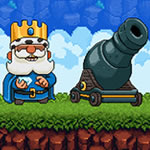 Title:
Tiny Empire
Category:
Action Games
Description:
Launch cannonballs and blow tiny orcs into thousands of pieces in this fantasy-themed puzzle shooter! Embark on an epic medieval adventure under the leadership of your beloved king, enjoying charming 16-bit pixel art visuals and an awesome
epic soundtrack during your journey.
The foul orcs are are stepping on the perfect grass of the king's majestic lawn. Can't they read signs?! Use the royal cannon and blow them in pieces.
You can play 135 level in this free strategy game. You can upgrade the cannon and the soldiers of the king. The king's army is colored blue. Do not eliminate any blue soldiers! But now start playing, the first level will let you learn the game's basics.
Instructions:
Mouse = Aim and Shoot (click and hold = aim; release = shoot)