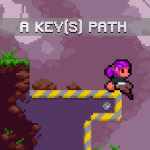 Title:
A Keys Path
Category:
Action Games
Description:
Build your way with your own keys. With your 3 movement keys (Left, Right, Jump) available at the bottom of the screen, you can drag them in the world to use them as platforms. But don't use too many, or you could run out of movement options. Because as soon as one is placed, you can't use it for movement! It will be locked until you retrieve the key from the world. So, key of this game is to place the key that you do not need for your next movement… if that makes sense! Try it, it's really fun!
Instructions:
A,D or Arrow left/right = Move
SPACE or Arrow up = Jump (Hold for higher jump)
Mouse = Drag and place a key from the bottom in the world (after placed you can't use the key for movements)
Don't give up, it is possible!