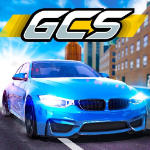 Title:
Grand City Stunts
Category:
Racing Games
Description:
In a Grand City, a very long stunt and racing adventure is beginning with Grand City Stunts game! This game does not only consist of stunts but also it consists of races in which you can play either a single or two player. In all of the races, CPU racers will attend the races besides you and your friend. If you want to receive a reward, you should complete the race in the first place.
Choose in the menu if you want to race, enter the quest mode, just do a free drive or enter the garage. In the garage you can customize your car and make it to your very own racing car. Besides several car models you can customize the performance and the design or your vehicle. Performance include engine power, brakes, NOS boost, handling and turbo. You will start with a bank account with $5,000. Spend this money wisely. After you customized your first car, you go back and choose race or quest to start playing!
The quest mode features besides the city an off-road area. Explore the whole map driving around following the map and solve missions.
Instructions:
Player 1:
Move = WASD
Nitro = F
Look back = T
Respawn = R
Handbrake = SPACE
Quest Mode: Show Message = G
Player 2:
Move = ARROW KEYS
Nitro = K
Respawn = O
Look back = L
Handbrake = RIGHT-SHIFT