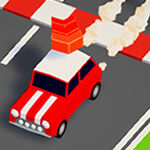 Title:
Hard Crash
Category:
Racing Games
Description:
Hard Crash is a 3D racing game. Compete with other players who use different keys on the keyboard (choose at the beginning if you play in 1-Player mode or up to 4-Player). At the beginning click the READY button on Player#1, choose the track in the middle of the screen and hit START unless you want to play locally with others. You will control either a sportive red mini car or a brown monster truck. On the track you can get power ups like a turbo boost or a rocket. A turbo boost will accelerate you like a ludicrous mode in a Tesla. With the help of rockets you can get rid of a competing driver in front of you. Player#1 uses power up items by a click on Return.
Instructions:
1-Player:
- Arrow keys left, right, up, down = Accelerate, Steering, Brakes
- Backspace = Return on track
- Return = Use item
2-Player:
- W,A,S,D = Accelerate, Steering, Brakes
- Q = Return on track
- E = Use item
ESC = End game & open menu Open Settings if you want to play in 3-Player or 4-Player mode for further instructions.