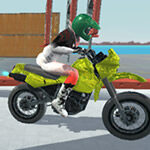 Title:
Port Bike Stunts
Category:
Racing Games
Description:
Port Bike Stunts let's you choose the game modes. Choose 1-Player or 2-Player mode. In 2-Player mode you are able to play together at the same keyboard with a splitscreen. Further, you can choose game mode Racing or Free Driving. In Racing you will the level mode of this racing game. Free Driving let's you stunts. This free game is a bike racing game and a stunt bike driving game in one.
Available are speed bikes, a cross bike, a bike cruiser and a police bike.
See instructions for key allocation.
Instructions:
1-Player-Mode:
Arrow Keys: Drive
N: Turbo
C: Change camera view
R: Restart Level<br>
2-Player-Mode (2nd Player):
WASD: Drive
T: Turbo
Q: Change camera view