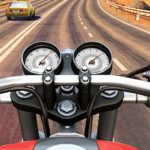 Title:
Moto Race: Loko Traffic
Category:
Racing Games
Description:
Ride your super moto and race through crazy traffic on the highway! The city is going loco, so avoid the obstacles to survive! There is no limit to your speed! Choose from many bikes, including sports, cruiser and future bikes… and also an invisible bike
Enjoy cool and real 3d physics. Other vehicles in the traffic (cars and trucks) will crash and also try to collect your cash and fuel, so be fast! The countryside offers a brilliant view, the city is very dangerous to drive through and the desert demands a lot from you!
Instructions:
Arrow keys = move
SPACE = boost